Working From Home At SSCOH
Since the Illinois Governor first enacted the stay-at-home order in mid-march our residents have shown strength, perseverance, and adaptability in adjusting to their new normal.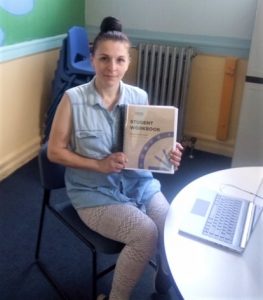 One of our residents, Anna, was gearing up to start a workforce training program when we were all forced to shelter in place. Unsure about what would happen next, Anna stayed positive and waited to hear from her employer.  
Over the last few months, Anna has been able to participate in her workforce training program by taking classes through Zoom. 
"I found out I got accepted to the workforce training program and then before I could start the Coronavirus pandemic happened. Thankfully, we have still been able to have classes online and it has been amazing. Working from home is good because it feels like I'm doing something even though I have to stay inside. This has been a major confidence boost for me and I've learned so much," said Anna. 
Anna's workforce training program is facilitated by Growing Home, one of our neighborhood partners. Their program teaches participants about farm production, including planting, harvesting, washing, weighing, packaging, and selling produce to customers across Chicago. 
Working from home has given Anna a chance to brush up on her computer skills and refresh her memory on navigating the internet which she sees as a blessing in disguise.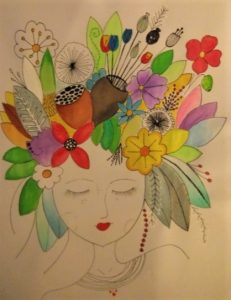 Anna hopes to become a master gardener one day and it wasn't until she was given the opportunity to join Growing Home's workforce training program that she realized her dreams could become a reality.  
"This would have never happened if it wasn't for Southside Center of Hope. When I got here, I was so scared and wondering what I was going to do. I always had this dream of becoming a gardener but I couldn't see it really happening. I never thought my dream could come true but at southside Center of Hope it did," said Anna. 
Aside from her work, Anna has been keeping busy in other ways by reading, painting, and drawing. Anna is always working on art projects in her free time and said that she has filled three sketchbooks with drawings since the pandemic began.  
Thankfully, Anna will soon be able to start taking classes and getting hands-on work experience through Growing Home in just a few weeks. Anna said that she is thankful for the accommodations Southside Center of Hope made for her during this time to guarantee she could continue to work.