On July 1st, Southside Center of Hope will be taking over Independence House, a permanent supportive housing shelter, in partnership with Interfaith Development Housing Corporation. Interfaith is a non-profit organization which develops, owns, and operates buildings in the Chicagoland area. Interfaith's mission is to provide physical locations to social services and other non-profit organizations to help them better serve the community. 
Yaisa Hagood, Executive Director of Southside Center of Hope, is excited about being able to serve more families. "Being a service provider at Independence House allows us to grow and expand our mission," said Hagood. 
Founded in 1992, the Interfaith Housing Development Corporation currently owns and operates 19 developments in Chicagoland. Perry Vietti, who has been President of Interfaith Housing Development Corporation for the last six years, describes the work as "mission-based," rather than geographically based, as their projects have ranged from constructing affordable housing complexes to providing shelter to mental health services. Vietti says he finds his work rewarding, especially seeing how a new development can change a block or even a neighborhood. "It can be a point of change in the community that sparks new growth," said Vietti. 
Independence House has 25 apartments for women with children experiencing homelessness. Southside Center of Hope will provide case management and supportive services for the tenants.
In addition to taking over Independence House, located at 820 S. Independence in the Homan Square neighborhood, Vietti and his team will also be building a new permanent housing facility for Southside Center of Hope in the West Pullman neighborhood. While the construction has yet to begin, the city has already approved the project.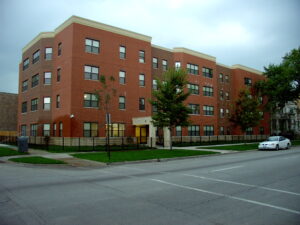 "We've seen a change in the need of the populations we serve," explained Hagood of and for the increased need for permanent supportive housing. "Some women need long-term housing and support, and a sense of community, to stay sober." 
"The goal is to disrupt the chronic epidemic of homelessness, and permanent supportive housing can do that," said Hagood. Other goals for Southside Center of Hope include returning the recovery program back to the Southside. "Our founders created a strong presence in Woodlawn for almost 40 years, we developed strong partnerships and we hope the community will welcome us back soon" said Yaisa.