St. Martin's Partners with Friend Family Health Clinic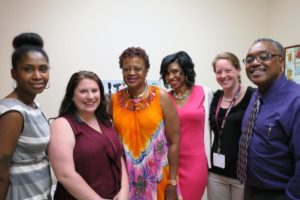 Resident Angela hadn't been to a doctor in 20 years. She had been ignoring some health issues that she needed to take care of immediately. "I went to Friend Family Health Clinic and got taken care of," she said.  All new residents meet with Conrad Gilbert, Outreach & Enrollment Specialist for Friend Family Health Clinic (FFHC).
FFHC provides residents in the Woodlawn community with Behavioral Health, Care Coordination, Family Medicine, Family Case Management, Lactation Education, Nutritional Education, Dermatology, Obstetrics/Gynecology, Pediatrics, and Social Services.
House of Hope's partnership with Friend Family began after Verneda Bachus, CEO of FFHC and her Senior Leadership Team donated Christmas presents to the residents, and several employees and their families volunteered to serve Christmas dinner.
Shortly after, St. Martin's Executive Director Yaisa Hagood asked FFHC's Certified Application Counselors to assist residents with their insurance needs and to help them sign up to use the clinic's services.
"We know that during their addiction our residents have ignored their health needs as well as those of their children. Addressing their physical health is just as important as helping them recover from addiction," said Hagood. "Partnering with Friend Family Health Clinic was a natural fit because, like us, they focus on providing services to families who are undeserved in our community. As a result of this partnership, we truly are able to offer a holistic program that treats the mind, body and soul."
"I am so thankful that we have a great working partnership. By creating this partnership, and having our residents get connected to health care almost immediately, St. Martin's continues to grow and help the residents recover from their addiction in all components of their lives," said Case Manager Melanie Bagnola. "From Conrad assisting the women in getting their insurance figured out, to the doctors and nurse practitioners that our residents go see at the clinic, FFHC has truly been a blessing to our residents."
Conrad estimates 15-20 current and former House of Hope residents use the clinic. He says "My main objective is to get residents in the community to be proactive about their health. High blood pressure, heart disease and diabetes are the three top killers of African Americans. These are scourges of our community. A healthy diet and a healthy lifestyle can lead you to a clearer mind. If you are not feeling well, you are not motivated to do anything. "
Of St. Martin de Porres, Conrad says "To provide an opportunity to these women to get their lives back together is huge."