Sister Carlotta Retires After 13 Years Of Service
On June 30, 2020, We celebrated Sister Carlotta's retirement from Southside Center of Hope. Over the last 13 years, Sister Carlotta has impacted dozens of women and helped them on their recovery journey by providing counseling and facilitating anger management and life skills groups.  
As a Sister of Mercy and a Licensed Clinical Professional Counselor, Sister Carlotta said that during her time at Southside Center of Hope she has tried to use whatever skill she has to serve homeless and drug-addicted women as they push forward in their recovery. 
"What has motivated me and what is extremely rewarding is to see women turn their lives around," said Sister Carlotta. "Entering recovery after years of drug use is a huge change for them.  In addition to witnessing them work their recovery program, I get to see them blossom.  They come to realize that the person they were when they were using drugs or alcohol is not who they really are. They finally get to discover their own goodness and their own gifts and that is what motivates me."  
Prior to joining the team at Southside Center of Hope, Sister Carlotta had been praying for God to show her where she could be of service and felt called to work with homeless women. She interviewed with Sister Therese, co-founder of Southside Center of Hope, for an open position but ultimately decided it wasn't the right role for her because she was a counselor and the agency really needed an administrative assistant. 
A short time later, Sister Therese called back to say the position had changed and wondered if Sister Carlotta was still interested. After seeing that the open position involved working with residents and doing their intake and orientation process, Sister Carlotta accepted.  
"I will always be grateful to Sister Therese for hiring me and giving me the opportunity to serve here because I've used all the skills I learned in previous ministries which has been very fulfilling and satisfying. My prior life had prepared me to meet the needs of the women here, " said Sister Carlotta.  
When Sister Carlotta accepted the position at Southside Center of Hope, she was excited to be able to welcome women and children who were coming to live there, extending hospitality and expressing compassion.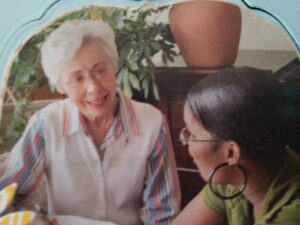 While working with the women at Southside Center of Hope, Sister Carlotta realized that most if not all had been through various traumas in their lives and had experienced the death of family members and friends. Most of them had never taken the time to grieve. She saw that the women would benefit from having therapy and grief counseling and took the responsibility of making sure that happened.  
"There were substance abuse counselors here but I was able to work as a counselor to help the women addressing the underlying issues that caused them to turn to drugs and alcohol. I knew that if those deeper issues didn't get healed, they could be a trigger for them to go right back to using," said Sister Carlotta.  
Over the years, Sister Carlotta has adapted to meet the changing needs of our residents at Southside Center of Hope. Most recently she has slowed down on providing counseling unless a resident has had a loss of a family member and needs immediate grief counseling.  She now focuses on teaching life skills and anger management classes.  
While helping women cope with grief, learn to control their anger, and learn important life skills like communication and budgeting, Sister Carlotta said she has learned quite a bit herself about strength and resiliency.  
"The women have taught me a lot. They have taught me how strong they are to have survived what they have been through. Some of them have taught me what deep faith they have in God and how they rely on God. Some of them have had a wonderful sense of humor. They're beautiful people," said Sister Carlotta.  
"I have also been blessed to have worked with Sr. Therese, with Yaisa Hagood, and so many dedicated staff and volunteers who have been an inspiration to me. I am very grateful for all the ways they have guided and supported me," Sister Carlotta continued.
With a true heart for service, Sister Carlotta has shown compassion, understanding, and empathy to dozens of residents during her time with this agency and we are grateful to have had her as part of our team for the last 13 years.