For 40 years Southside Center of Hope (SSCOH) formerly St. Martin de Porres House of Hope has been a haven for mothers struggling with addiction.
SSCOH has remained steadfast in its commitment to providing support and resources to help women with children recover and rebuild their lives. As an organization founded by women for women, the past and current leaders of the organization have dedicated their lives to empowering women.
The agency started at a time when one of the co-founders, Sister Therese O'Sullivan, who was a primary teacher, was reflecting on how best she could serve others.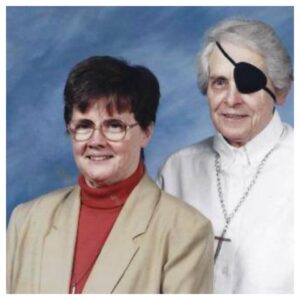 Subsequently, she joined forces with Sister Connie Driscoll to help women with children experiencing homelessness. Prior to founding House of Hope, Sister Connie served as a sergeant in the Women's Army Corps, obtained a law degree, and was an entrepreneur.
In the early 80's, she visited the nuns who had taught her at Loretto High School. In an interview with the Chicago Reader, Sister Connie state that she decided to stay in Chicago rather than retire and move to Michigan because the nuns showed her the plight of the hungry and convinced her that it was the place to help.
Sister Connie served as the Executive Director for more than 20 years until her passing in 2005. Following her death, Sister Therese took the helm and led the organization for 10 years until her retirement in 2016. Recently she reflected on her days of service, "It was a privilege for me to be involved in the lives of these women and I am grateful to have been an instrument for them, "said Sister Therese.
Yaisa Hagood assumed the role of Executive Director of Southside Center of Hope in 2016. Having attended St. Martin de Porres House High School and grown up just a few blocks from the facility, she felt a special connection to the organization and to Sister Therese. "I feel privileged to have worked for Sister Therese and to carry on her legacy," said Yaisa.
Under Hagood's leadership, Southside Center of Hope has been able to adapt to the evolving needs of the families it serves by expanding services. The agency offers Art Therapy and Financial Literacy Classes and recently partnered with HHPLift™ to provide a workforce development program.
When asked what she is most proud of Yaisa stated, "I am most proud of how our staff handled the COVID-19 pandemic. It was a time of great uncertainty for everyone, and we were able to adapt to ensure programming was able to continue at a time when no one knew what to expect."
In 2021, the agency sold its building located in Woodlawn because of capital improvements needed and transitioned to a facility owned by Inner Voice in the East Garfield Park Neighborhood. "It was difficult leaving the school building on Woodlawn. The building had so many great memories and history. Plus, we started in Woodlawn, it's where I grew up and currently live. Leaving your roots is hard" said Hagood.
What does the future hold for Southside Center of Hope? After Sister Connie died in 2005, the agency started having an annual deficit, but it is working towards financial sustainability.  Last summer, the organization partnered with Interfaith Housing Development Corporation (IHDC) to become the service provider for Independence House, a 25-unit permanent supportive housing facility in the North Lawndale Neighborhood serving chronically homeless families. In the next few years, the organization will have a permanent supportive housing facility in the West Pullman neighborhood in partnership with IHDC and plans to transition the recovery program back to the Southside of Chicago where it all started.