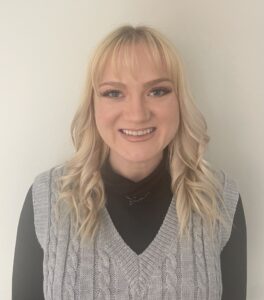 Peyton Spanbauer is our new Development and Communications Manager. She comes from Woodstock, IL and is a graduate of Iowa State University with a degree in Journalism and Mass Communications and Women's & Gender Studies. She moved to Chicago last August to attend graduate school at DePaul University, where she is currently pursuing a Master of Arts in Digital Communication & Media Arts. 
During undergrad, Peyton gained experience in fundraising as a Program Manager in a call center and thereafter took a position as a Communications Intern for the Iowa State Department of Apparel, Events and Hospitality Management. Her previous work experience also includes field organizing for the Bernie Sanders 2020 Presidential campaign for the Iowa Caucus in Cedar Rapids, as well as Northern Chicagoland for the Illinois Primary, and remotely organized into Wisconsin for the Wisconsin Primary.
Speaking on her new position, Peyton says she's "most excited to get involved in my community again. I've always been involved in giving back and nonprofit work, but I didn't know where to start since I moved to the city. This seems like a perfect fit." 
As the new Development and Communications Manager, Peyton will be responsible for all Southside Center of Hope's (House of Hope) communications, including social media, newsletters, and all new content. She is also the new point of contact for donations and looks forward to getting to know House of Hope's donors. "Everyone has their own reasons for getting involved, especially with a 40-year-old organization like ours, and I can't wait to hear people's stories of support and recovery," Peyton said of donors. 
In her free time, Peyton enjoys walking her dog, Millie, at the lakeshore, going to Cubs games, seeing live music, and enjoying podcasts, documentaries and anything else true crime. She aspires to run a half marathon and one day live in a place where she can immerse herself and become more fluent in the Spanish language.