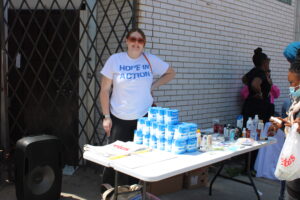 On the Saturday of Memorial Day weekend, Southside Center of Hope's Young Professionals Board along with staff member Peyton Spanbauer, Development and Communications Manager, took to the neighborhood of Grand Crossing to help pass out sanitary supplies and toiletries as part of the Kindness Campaign's 2022 Wellness Fair.  
The Kindness Campaign is a nonprofit organization focused on providing information, supplies and resources to communities in the Chicagoland area. Its mission is to empower community members with health, education, workforce, and public equity.  
"Partnering with the Kindness Campaign is a great opportunity for the Young Professionals Board. It gives us the chance to build community with the people who work and live in the neighborhoods in which we serve," said Katherine Newman, secretary of the Southside Center of Hope's Young Professionals Board. 
Southside Center of Hope was one of the many organizations that came out during the sunny three-day weekend to support the community. Many community members gathered to get free feminine hygiene products and other toiletries.
Christopher Watts, Executive Director of The Kindness Campaign, said that the large turnout "was a testament to the confidence and support of the community." Those who attended could receive affordable housing information, free health screenings and vaccines, at-home COVID test kits, groceries, and hot food. There was even a petting zoo and jump house for children to enjoy. 
The Young Professional Board has participated in numerous Kindness Campaign events over the years. "It is important that Southside Center of Hope helps as many families as possible; it has always been my vision to expand beyond our residential program and serve in the community. We are grateful for our partnership with the Kindness Campaign and be able to continue supporting families on the Southside," said Yaisa Hagood, Executive Director.   
In 2020, The Kindness Campaign was able to give back over 200,000 lbs. of free food and served 35,000 meals to the people of Chicago. Their success comes from the support of organizations like Southside Center of Hope who lend what resources they can to each event. 
The Kindness Campaign holds events monthly in communities across the Chicagoland area. To see how you can support their work, go to www.thekindnesscampaign.org/support-us.